Italian Style Coffee Machines
If you are looking for commercial coffee machine sales in Lanarkshire, Scotland or throughout the UK, get in touch today. R & R Coffee Supplies years of experience in the coffee industry.
We specialise in providing the freshest coffee blends from around the world and roasted in the Italian style. Our best commercial coffee machines are supplied to a diverse range of customers throughout Scotland, from hotels and restaurants to offices and sports venues.
The company and its engineers are based in Glasgow. However, the extensive service network allows coverage to the U.K., including the Highland and Islands.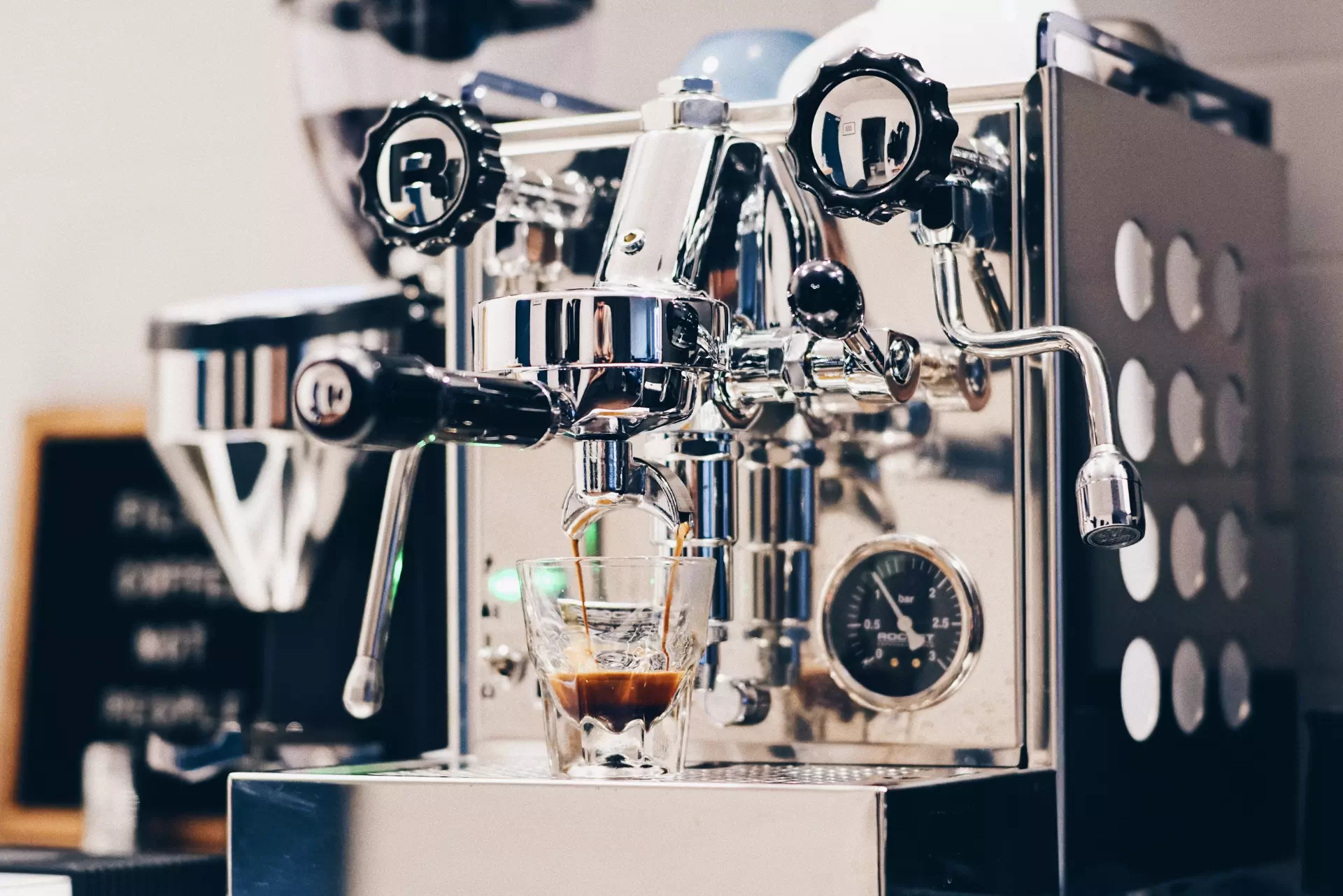 Group Machine
The Bambino is a top quality 1 or 2 group espresso coffee machine with semi-automatic or electronic options and is exceptional value for money.
It provides an excellent opportunity for bespoke branding from the U.K.'s only manufacturer of espresso and cappuccino coffee machines.
Bean To Cup
This type of machine is great for locations with a water connection as our bean to cup machine includes three canisters, with one for milk and chocolate and coffee beans.
You are provided with three canisters (one of which is for the beans. Another is to produce the coffee, espresso, cappuccino, chocolate, coffee with milk, Wiener melange, espreschoc and hot water. It also contains a selection key for adding milk to the coffee.
Filter Coffee
The Novo machine is supplied with one glass decanter of 1.7 litres of water, preventing them from having to be frequently refilled when your hotel or restaurant is busy.
Our Quick filter machines are perfect for locations without a water connection as they are fully detachable and can be moved around the store to serve the needs of your customers.
How much does a professional coffee machine cost?
The cost of a professional coffee machine depends on the size of the device your business requires and the style of coffees you want to make. We have a range of different brands and styles as seen below. If there is a machine, tools and equipment or brands of coffee you can't see below, please get in touch.
R & R Coffee Supplies are always on hand to discuss the needs and requirements of your business. Our team will give you all the information, advice and costs involved in purchasing your machine.
What should you consider when buying commercial coffee machines?
The business delivers an extensive range of coffee machines ranging from traditional Barista machines to flexible high-end Bean 2 Cup that produces top-quality coffee. The R & R Coffee Supplies product range is suited to many types of locations and applications. The wide range of coffees supplied are exquisite, and the customer can even have a blend roasted right here in the U.K. A selection of Fairtrade coffees is also available.
Your Demands
It is best to choose a machine that meets your demands:
Low Capacity A low capacity machine will make less than 100 cups of coffee in a day.

0 - 100 cups per day
Medium Capacity A medium capacity commercial coffee machine will make up to 200 cups.


100 - 200 cups per day
High Capacity If your demand is more than 200 cups, you will require a heavy-duty commercial coffee machine.
200+ cups per day
Our Products
If you are looking for Commercial Coffee Machine Sales in the U.K., contact our specialist supplier today. R & R Coffee Supplies delivers an extensive range of coffee machines ranging from traditional Barista machines to flexible high-end Bean to Cup that produce top-quality coffee. The R & R Coffee Supplies product range is suited to many types of locations and applications. The wide range of Coffees supplied are exquisite, and the customer can even have a blend roasted right here in the U.K.
R & R Coffee Supplies can supply Coffee Machines, Coffee, Fairtrade, Teas, Infusions, Biscuits Snacks and Barista Essentials. Below is a small selection of products:

Coffee Machines
If you see a machine not listed here, please give us a call as we may be able to provide the type of coffee machine you require.
Retro
Coffee Machine
Retro, these machines are the latest innovation from award-winning Fracino. They reflect the company's positive developments. A stylish 1 and 2 group lever espresso machine reminiscent of the era of a 1950's coffee bar.
Bravilor Novo Filter
Coffee Machine
The Iso and Novo' coffee machines can filter coffee that is freshly brewed and quickly without necessarily using water mains. Novo allows direct brewing into a glass decanter' measuring 1.7 litres.
Contempo
Coffee Machine
These machines are affordable and innovative cappuccino/espresso machines. They have a modern style that will grace any coffee shop, cafe or restaurant. These machines are semi-automatic or controlled electronically.
Automatic Bean to Cup
Coffee Machine
These machines have a built-in coffee grinder. They heat the water and supply delicious coffee. Most machines come with a built-in milk frother.
Bambino
Coffee Machine
Every machine comes with its steam tube and hot water facility to help steam and frothing milk. They have substantial capacity boilers. These are fantastic cappuccino and espresso coffee machines.
Cafeteria Products & Catering Equipment
We have a range of products and accessories for catering to help inprove your customers overall experience with you. If you see a product not listed, please get in touch as we can accomodate you.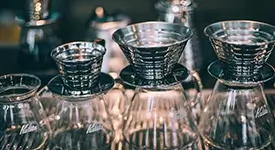 Standard
Filter Holder
We have a range of standard filter holders for our coffee machines
Fracino
Wooden Filter Holder
These are high quality double and single shot filter holders with excellent wooden handles.
Fracino Steaming
Frothing Jugs
We offer various sizes and types of Teflon coated and stainless steel milk jugs for steaming and frothing your milk.
Fracino
Measuring Spoon
These spoons are ideal for measuring the exact amount of coffee for perfect strength drinks.
Fracino
Chocolate Shaker
These shakers are perfect for adding that chocolate sprinkle to your hot drinks
Fracino
Cups and Saucers
This range of cups and saucers come in different sizes depending on the type of coffee you are making, from espresso to cappuccino sizes.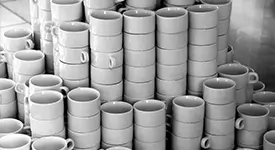 White China
Cup and Saucer
Our range of plain white china cups and saucers offer elegance to any venue, from coffee shops to high-end restaurants.
Fracino
Latte Glasses
These Fracino branded latte glasses come in 8oz and 10oz and are sold in boxes of 12.
Fracino
Thermometer
Our Fracino thermometers will give the correct temperature for your hot drinks.
Cups and Lids
for Bistros
These take away cups are perfect sizes for those who want a coffee on the go.
Brown Ripple: 10 oz // 12 oz

Food and Burger
Boxes
We hold 3 sizes of food boxes and 2 sizes of burger boxes.
Food boxes: 1 x 250
Burger boxes:
1 x 500 (Small) // 1 x 400 (Large)
Range of Commercial Coffee
We have a vast range of coffee commercial coffee machines to suit all types and sizes of businesses. Please contact us if you require any information and advice. Our friendly team will be happy to help you make your choice.
Mokarabia DECAF
An excellent choice for those who prefer a decaf coffee. It is made from premium grade 100% Arabica coffee beans.
Fairtrade 1 kg Bag
Our fairtrade coffee is outstanding and is certified as having been produced to fair trade standards by appropriate fairtrade organisations.
Espresso Moka Beans 250g
Espresso shots from Moka Beans are often 5-8 times more robust than a traditional type of drip coffee.
Coffee Syrups
Our range of syrups are perfect for adding that little extra to coffees. We stock a range of flavours.
Espresso Coffee Beans 1 kg
These coffee beans have been designated for espresso machines and are roasted for a much longer time than beans used for drip coffees, giving excellent flavour every time.
Techincal Support & Servicing
The company delivers comprehensive technical support in businesses, which are designed to meet individual customer requirements while minimising any downtime and maximising profit and drink quality at all times. With a team of thoroughly trained and qualified engineers at hand to install, service and maintain all the equipment it supplies (and pre-installed equipment), R & R Coffee Supplies can achieve this.
Depending on the machine manufacturer, our servicing and support can cover:
Factory service and descales.
Pressure tests and certifications.
Upgrades and modifications.
Dual fuel espresso coffee machine installations.
Vintage machine restorations.
Nationwide service cover.
Installations and training.
Technical helpline for service and spares.
Spare parts and numbers are featured on the manufacturer website.
Fast response emergency call-outs.
Planned and preventative maintenance.
"Having used other suppliers for both my machines and coffee, R & R Coffee Supplies were a breath of fresh air to deal with, knowledgeable, professional and most of all genuine people who were easy to get on with. I would recommend R & R Coffee Supplies if you're looking to change either your machine or your coffee."
Ricardo Alves - Cafe Rico
"R & R Coffee Supplies supply a fast friendly, and reliable service of a high quality product at a reasonable price."
Allan / Bobby - Eskbank Trading Co Ltd
Contact
R & R Coffee Supplies
40 Avondale Avenue, , East Kilbride, Lanarkshire, G74 1NS
Opening Hours
Monday - Friday
8 AM - 5 PM
Saturday
10 AM - 3 PM